There are a number of rules for obtaining a moped driving licence. From your 16th birthday onwards, you are allowed to drive a moped/scooter, snorfiets/snorscooter or a moped. A driving licence AM is required. This driving licence is for life. But you have to pass the necessary exams for it first.

You can take a theory exam when you are fifteen 15 years and six 6 months old or older.
Driving school Green can train you in a fast and yet very good way to be a safe road user. We have put together a complete package for the moped driving licence, so you know in advance what your driving licence will cost.
To get the scooter driving licence, you have to take 2 exams. You have to do both a theory exam and a practical exam. Of course you have to pass both exams before you can collect your licence and drive a scooter.
No long waiting time for your lesson
We pick you up where you want
If you want to take moped driving lessons, you also have to learn for the theory certificate. On the day of your exam you need to be in possession of your theory certificate AM. If you do not have a valid theory certificate, you cannot take the exam. That's a waste of your time and money.
The required theory books and/or online courses are available from stock at Rijschool Green. Keep in mind that there is usually a waiting period of 2 to 4 weeks for the theory exam. So register in time.
After passing the theory exam, you may prepare for the practical exam. "This is a 'test of competence', in which you have to show that you have sufficient knowledge, insight and skills to participate in traffic properly and independently. You don't just meet these requirements. Just as with the car or motorbike, the moped practical test requires thorough preparation. You can get that by following training at a good driving school, such as Rijschool Green. Only motorbike instructors may give scooter practical lessons.
Through Rijschool Green you can follow theory lessons and take the latest exams on your own computer at a time that suits you. How nice is that, it couldn't be easier. Don't understand something? "No problem, we'll explain it to you free of charge.
The CBR advises you to wear appropriate clothing during the exam, such as a properly approved helmet, gloves, high shoes or boots and clothing that protects you from the weather. Don't have a helmet, gloves or rainwear? No problem, because at Green Driving School you can borrow them for free. We always advise you to buy your own helmet and clothing as soon as possible.
5000 graduates preceded you!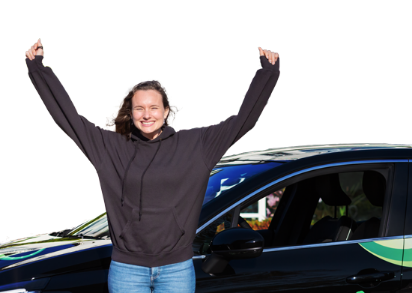 Extra driving lesson (60 min) € 49.50,-
Theory Examination € 47,50
Practical examination AM € 200,-
Complete theory course: Learn & practise online (recommended) € 69,-
Complete theory course: Book + online exam training € 69,-
Rijschool Green reserves the right to make changes.
Have you already made your choice of package? Give us a call on 020 345 1 333 and we'll make sure you can start your driving lessons as soon as possible! Outside of opening hours you can also send an email to: info@rijschoolgreen.nl