At Rijschool Green, you can get your driving licence in a fun, pleasant and affordable way. Rijschool Green's head office is in Amstelveen, but our instructors are based in several places throughout the country. Also in your neighbourhood.
You can find us, among others, in:
Aalsmeer, Abcoude, Amstelveen, Amsterdam, Baambrugge, Badhoevedorp, De Hoef, De Kwakel, Diemen, Hoofddorp, Kudelstaart, Uithoorn, Zwanenburg.
Is your hometown not listed?
Please contact us, because who knows, we might also be in your neighbourhood! At Rijschool Green you follow a complete, high-quality and affordable driving course according to the latest teaching methods.
No long waiting time for your lesson
We pick you up where you want
Largest driving school in Amstelveen and surroundings since 2011!
We don't stunt. We provide quality!
We give driving lessons on: Monday to Saturday from 8.00 to 21.00. and even on Sunday is possible, so we can always schedule you.
Rijschool Green is affiliated with the BOVAG.

We have no waiting lists. Always within a few days after your application you start your first driving lesson.

You can use your unique login code to make appointments, move appointments, and cancel if necessary. Both you, your instructor and the driving school will automatically receive an email after every change.
Online je vorderingen en bijzondere verrichtingen bekijken.
Alle betalingen, of dat nu per pin, rekening of contant wordt voldaan direct online beschikbaar op je eigen inlogpagina en je ontvangt direct via de mail een nieuw saldo overzicht.

Theory lessons like at the CBR, at home on your own computer, again with your unique log-in code

All payments (whether by debit card, credit card or cash) can be made online via your own login page. You will immediately receive an up-to-date overview of your new balance via e-mail.
Should you have lessons left over after you have passed, we will pay the difference back immediately.

Driving School Green teaches in new and smoke-free cars (also automatic).
 Driving School Green gives lessons on the newest motorbikes with ABS.
Driving School Green provides lessons on the newest scooters.
You can buy individual lessons, lesson packages, multi-hour cards, theory books, online courses, etc. at the driving school or directly from your instructor. You can also pay by Tikkie in the car with the instructor.

We pick you up where you want: at home, work, school or any other location, for Rijschool Green no problem.

 

Due to the high costs and to keep the prices attractive, Rijschool Green does not accept American Express.

Guidance for fear of driving or failure. We can also teach anxious students to drive safely.

The convenience of paying by Tikkie with the instructor in the car.

Refresher course for driving licence holders.
We also teach anxious students how to drive.
Friendly and highly motivated instructors.

 PLEASE NOTE: Packages are valid for 1 (one) year from the start of a driving course.
5000 graduates preceded you!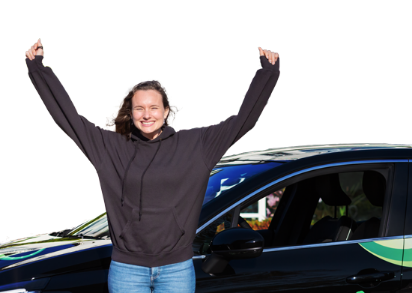 All our instructors / instructors are of course in possession of a VOG, qualified, certified and have all possible refresher courses and exams. Driving School Green therefore trains you according to the latest and most modern methods.
At Rijschool Green we have no hidden small print., All is open and clear, so no extra conditions or negative surprises. Driving lessons are driving lessons and not coffee breaks. Coffee? Then longer lesson! As soon as you are ready, we apply for the exam, so no unnecessary lessons.
Packages are valid for 1 (one) year from the start of training.

Scheduled driving lessons can be cancelled free of charge up to two working days before the appointment. Otherwise the lesson will be charged or deducted from the package credit.
Any offers and promotions cannot be combined.
Course must be paid in full before the exam takes place, in case of a full or partial outstanding balance, no exam will be held and no refund will be given.
The course participant is responsible for having a valid theory certificate at the time of the practical exam.
Rijschool Green is affiliated with the BOVAG driving schools. The strict admission requirements and careful quality inspections of the membership guarantee you a high-quality learning process. This means that you will be supervised by a BOVAG driver. This guarantees the high quality of our driving school as the BOVAG has strict admission requirements. Taking lessons with a BOVAG driving school guarantees you expert instructors, lessons in well-maintained cars, insight into your progress, a reliable lesson contract and a good success rate. Another reason to take lessons at Rijschool Green.
Questions? Please contact us
We assume that there are still questions, please call, email or come by. We'll explain everything to you over a cup of coffee or tea.