Rijschool Green is the driving school for obtaining your motorbike driving licence. A household name in Amstelveen. Known for its experience and passion for motorcycling. Our team of permanent instructors have all the qualities to help you succeed in your motorbike driving license.
For many (aspiring) motorcyclists, motorcycling is synonymous with freedom and sportiness. There are motorcyclists in all age categories, ranks and positions. That's what makes it so much fun. The motor driving lessons of Driving School Green are provided by a very experienced instructor who is a motorcyclist in heart and soul and turned his hobby into his profession.
The motorbike training consists of 2 parts; a training for vehicle control and a driving test on public roads.
No long waiting time for your lesson
We pick you up where you want
At a special training area/large car park, you learn all the special operations that are assessed during the official CBR exam under professional supervision. During the course, you will learn a total of 12 special manoeuvres, 7 of which you must demonstrate at the CBR exam. At Driving School Green, you learn to master each part quickly and thoroughly. This exam consists of 4 clusters that are classified as follows:
Walking with the motorbike and using the stand.

Operations at low speed.

Operations at high speed.

Braking exercises (these are the most important).
If you pass this part, you can be admitted to the traffic participation exam (AVD).
Traffic participation (AVD):
For this part of the course, you will, of course, be taught on public roads. The driving lessons start at Rijschool Green, the motorbike instructor follows with the car.
If you want to take motorbike driving lessons, you must first be in possession of a theory certificate for the motorbike (category A), or a valid driving licence B. On the day of your practical exam you must be in possession of the theory certificate A. The necessary theory books are available at our driving school from stock. Please keep in mind that there is usually a waiting period of 2 to 3 weeks for the theory exam. So sign up in time.
Of course, there are also certain clothing requirements for riding a motorbike. Well-fitted clothing and a helmet are vital.
It is important that students wear a sturdy and well-fitting jacket or coat. You should also wear trousers, shoes up to the ankle, gloves and a helmet.

Don't have a helmet, gloves or rain gear? No problem but we always recommend that you buy your own helmet and clothing as soon as possible.
5000 graduates preceded you!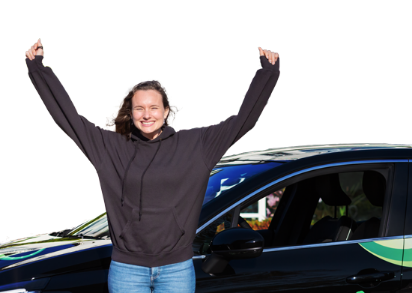 Are you 2 years in possession of your A2 license. Then you can now test for full power. We have a special package for this. A2 – Stepped = 2 hours driving lessons + AVD exam
(1 hour before the exam + 1 hour the week before)
Drive safely into the summer!
Drive safely into the summer with the Driving School Green spring refresher course. Do you want to become familiar again with driving on your own motorbike? Driving School Green has the perfect package for you:. 1,5 hour driving lesson on your own motorbike for only
A1 = Single driving lesson (60 min) € 53.50,-.
Complete theory package: Learn & practice online (recommended) € 69,-
Theory package: Book + online exam training € 69,-
Examination costs vehicle control (AVB) € 219,-
Examination costs traffic participation (also re-examination) (AVD) € 275,-
Have you already made your choice of package? Give us a call at 020 345 1 333 and we will make sure you can start your driving lessons as soon as possible! Outside of opening hours you can also send an email to: info@rijschoolgreen.nl